Airbnb Laundry and Luxury bed linens and towels rental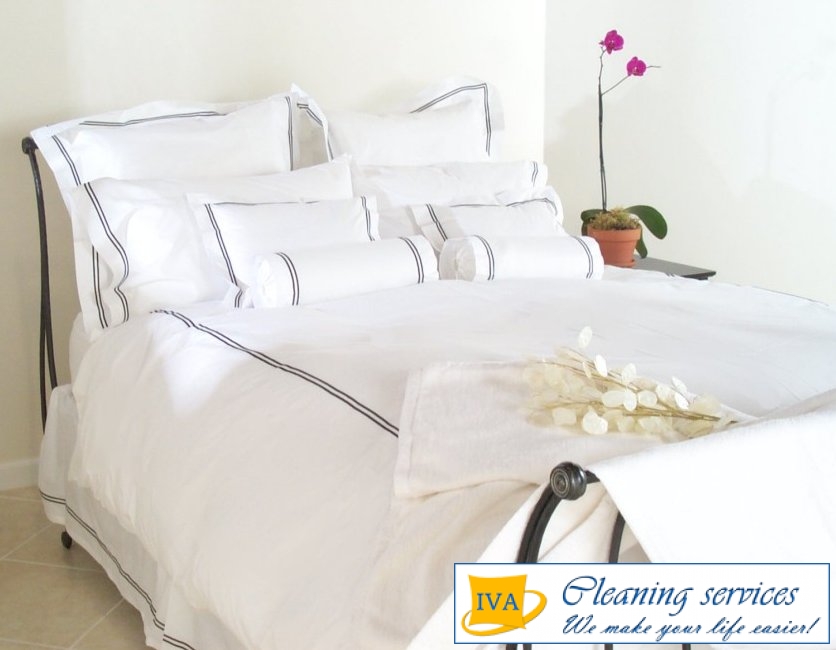 Iva Cleaning Services London can arrange a cleaner/housekeeper for your Airbnb property.
There is no size matter- we can clean from studios to large houses. Our experienced and very well-trained cleaners can sort out all your cleaning needs. Iva Cleaning Services London can help you to rent the Hotel Quality Supplies for Your Airbnb property such bed linens, toiletries, towels and more from our well- established partner. We can arrange the delivery exactly when you need/day of your Airbnb key handover within a 2-hour slot. For instance, we can schedule the delivery when our cleaner is at the flat.
*Happy guest, happy host*
Receive 5-star reviews with our no-effort service. Exceed customer expectations, and get more bookings by being a Superhost.

Iva Cleaning Services London can arrange a complete range of sheets, pillowcases, duvet covers and towels that will be remembered by guests long after checking out as the pinnacle of softness and feel.
A set contain:
* King fits super king
Our hotel-grade toiletries set includes all the essentials that your guests need.
Why you should use Iva Cleaning Services London?
We offer you tailor- made service to suit your cleaning needs and your time-scales.
You can use our cleaning services on a fixed term contract or only for a single cleaning visit. We work on very competitive prices.
What our service includes:
We organise professional cleans paid for by your guests to ensure clean homes and high ratings;
Bed changing and made to hotel standard;
Arrange the property to welcome your guests (flowers, bottle of wine, etc.);
Arrange high quality Supplies for Your Airbnb property include bed linens, toiletries, towels and more;
Arrange key collection and drop- off (on request);
Meet and greet your guests;
Do not hesitate to contact us for more information, prices and or wish to book your Airbnb Cleaning and linen rental with us.
We make your life easier!